Det tager nu mindre end 30 sekunder at afmelde materiel
Digitalisering skaber effektivitet og er vejen til den grønne omstilling
GSV og VAM indgår digitalt partnerskab
GSV stiller skarpt på digitalisering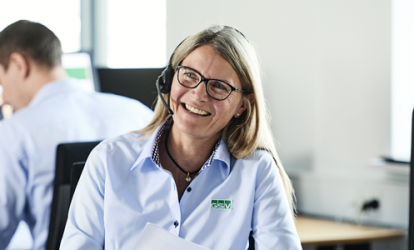 Service is a part of the package deal
GSV offers a wide range of services and support to make your company more efficient. All solutions are cost effective and tailored to make it easy and simple for you as our customer. We are nationwide with functioning departments that are all known for their high level of service and uniform procedures. At GSV, our well-educated and competent staff is always available to guide and to counsel.
Not only our logo,
needs to be green
In GSV we are aware that our machines emit a lot of CO2. We want to do things in a better way, so we have taken the initiative to reduce that amount substantially over the following years.
Read more about our initiatives for a sustainable rental business.
40 percent.
That is the amount of CO2 emitted by the construction business worldwide. In Denmark the amount is the same. The development shows that there is a need for us as an industry to take responsibility. In GSV we say "people first". We believe in this, because our business is also about taking care of where we live.
The construction business is in many ways the hidden climate culprit because when we read the newspapers, scroll through social media or listen to the messages from our politicians, the main focus is often air traffic, private cars or the comparison to red meat.
But making building materials and working machines for construction sites represent two fifths of the worldwide carbon footprint. And the emission is 50 % higher than the level of 1990.
At GSV, we supply the largest companies in the Danish construction business with machinery and equipment, and our goal is to make the construction site sustainable. We are ready to take on the responsibility of investing in sustainable machines if the companies request it.
In 2019 we have invested approx. 15 % of our investment budget in sustainable solutions and in 2020 we will invest 20 % in sustainable machinery and equipment.
More electricity and fewer diesel fumes. Less noise and more consideration. We believe that is the road to sustainable construction.