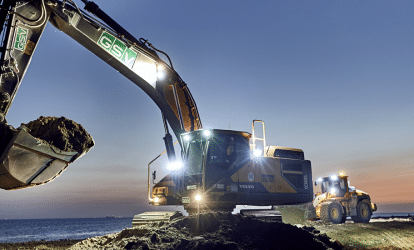 About GSV
GSV is the leading equipment rental business in Denmark with equipment for all construction jobs. Whether you need handheld tools for a minor construction job or big machinery for building the highways, bridges and metros of Denmark.
National service
GSV is always close to you. With our 21 departments and 4 on-site departments spread out across the country, you always have a way to get in touch with us, no matter where you are. 
You can always call our main line: 70 12 13 15, where our team will make sure that you will be connected to the right branch, the right specialists and the right solution for your job or problem.
We are with you all the way – whether it's planned or an emergency, we have rapid response and round the clock service. 
You can find the GSV departments here.
Optimal solutions
We are motivated by being able to deliver the optimal solution, and what we can do to deliver the most personal service in the business in cooperation with you. The process never stops in GSV because we always strive to do our best. To ensure that you, our customer, always have access to the right information we have digitalized our processes. At GSV, you're always the most important person in the room, and that is why we tailor solutions to your needs.
Innovative partner
You will find an innovative partner in us, and we want to join in on the responsibility for the future of Denmark. We know how much the construction business affects the environment. That is why it is our shared responsibility to find environmentally friendly solutions for the future. We will gladly take on the responsibility for affecting the development of environment-friendly machinery for our customers. We are investing in a broad portfolio of hybrid, electric and battery powered machinery while we still work hard to ensure that our machinery will be even more environment-friendly for the sake of our customers.
Security is important
GSV is DRA (Danish Rental Association) certified, and we're a member of Maskinkontrolordningen, Liftkontrolordningen and the Danish Construction Association. 
What it means to you: 
Fewer stop-downs and a higher efficiency

Focus on environmentally friendly solutions

Increased security for your employees
A DRA certified equipment rental business is the safe choice for those who care about quality, the environment and work environment.
GSV departments all over Denmark
GSV has 21 permanent departments and 4 satellite departments across Denmark. You can find all our departments here.
Our headquarters are in Hedehusene and our address is:
GSV Materieludlejning A/S
Baldersbuen 5
2640 Hedehusene
T: 70 12 13 15
M: info@gsv.dk